Service
Centers
With a national footprint, we aim to provide excellent support to our customers and hope to make this process as simple and as convenient as possible.
RCT offers online support services as well as walk-in face-to-face support in all major South African cities.
We have service centres located across the country staffed by skilled individuals who provide customers and end-users with service information, advice, returns, swap-out options and financing solutions.
Our country wide technical support
Service centers:
Johannesburg
152 15th Road
Randjespark
Midrand

+27 11 203 1000
+27 11 203 1940

PO Box 76494
Wendywood
2144
View in Google Maps
Cape Town
442 Koeberg Road
Milnerton,
Cape Town, 7441

+27 21 555 8200
+27 21 555 7136

PO Box 909
Milnerton
7435
View in Google Maps
Durban
Unit E9 Growth Point Industrial Park
52 Siphosethu Road,Mount Edgecombe
Durban, 4051

+27 31 582 0200
+27 31 582 0280

PO Box 25403
Gateway
4321
View in Google Maps
Port Elizabeth
No 37 Pickering Street
Newton Park
Port Elizabeth

+27 41 398 7082
+27 41 398 7140

PO Box 7234
Newton Park
6055
View in Google Maps
Bloemfontein
13 Short Street
Central Business District
Bloemfontein, 9301

+27 51 430 0000


PO Box 76494
Wendywood
2144
View in Google Maps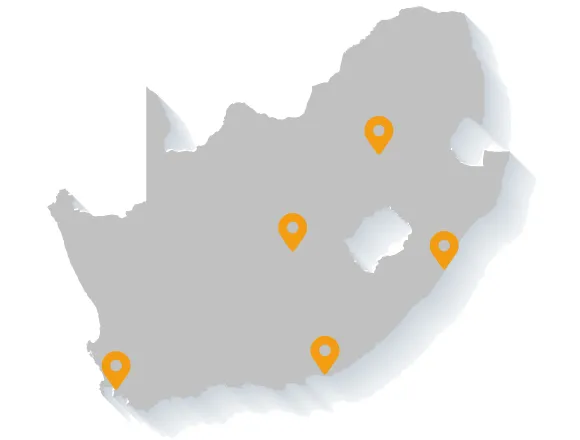 Operating Hours
Monday - Friday
8am - 5pm, local time